LV2025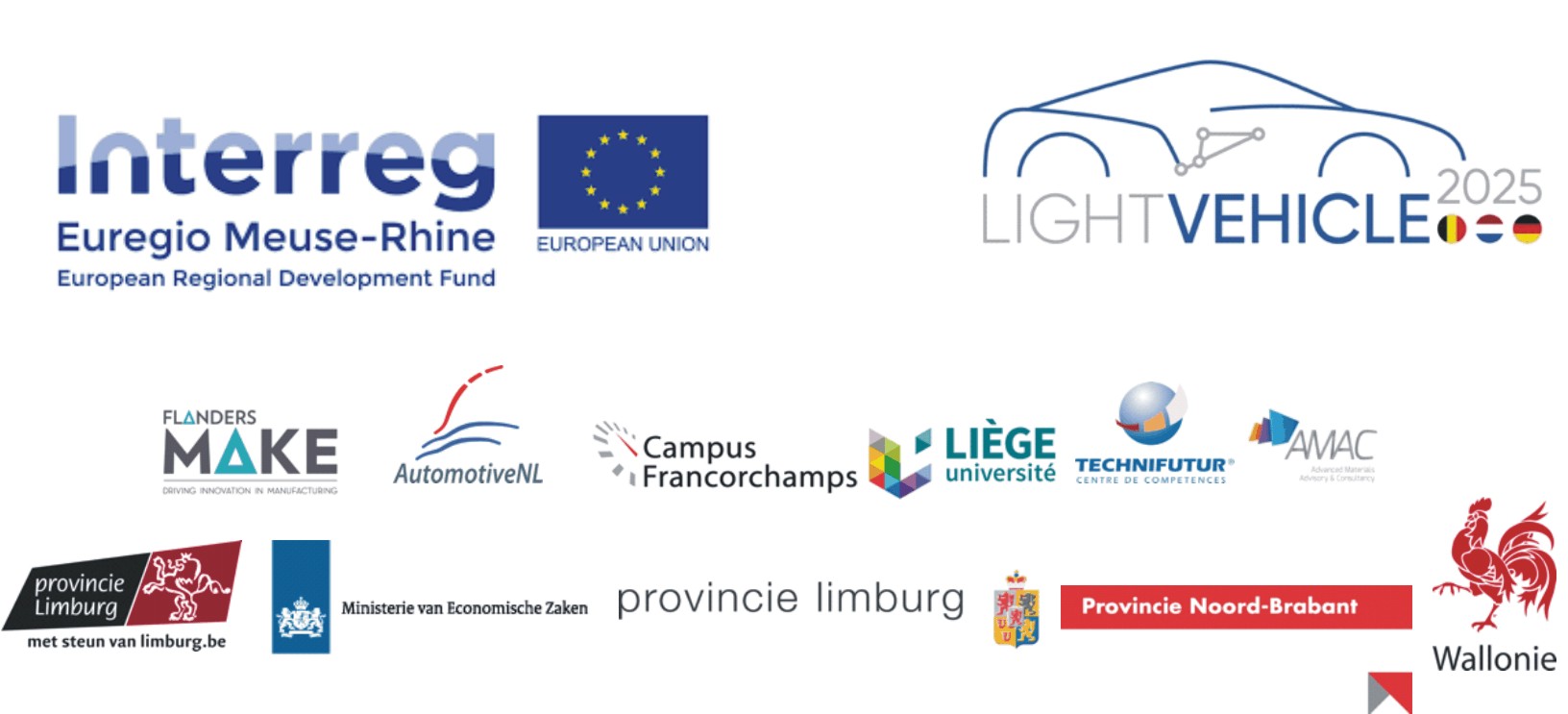 LIGHT VEHICLE 2025
SITUATION
The automotive sector is an important economic driver in the Euregion Meuse-Rhine (EMR) regions with a strong contribution to employment, knowledge creation, research and innovation. The international automotive industry sets the highest standards in terms of technology, efficiency and quality. To comply, companies have to specialize and cooperate in international supply chains that jointly produce world class products. OEMs, like BMW at NedCar (Geleen) the Ford Research Centre, Toyota Europe (Aachen) and VDL Bus&Coach (Helmond) ask for an active SME innovation community.
The automotive sector can be the benchmark of EMR ambitions coming to reality: to be a modern knowledge and technology region with a competitive economy and a high standard of living in an inclusive society that boosts employment.
THEME: CO2 REDUCTION FROM WELL TO WHEEL
CO2 reduction all over the supply chain is the most important criterion for future competitiveness in the automotive sector. CO2 reduction translates into fuel saving and that requires weight reduction on all vehicles which can be achieved by using lightweight materials. The transition to electric cars requires a quantum leap in low weight. The implications are enormous. New materials and complete new production processes are required. In this transition CO2 reduction includes priority on sustainable production processes and renewable materials; CO2 reduction from 'well to wheel'.
CHALLENGE
OEMs are very much aware of these issues and knowledge institutes (KI's) actively pursue research in the fields of lightweight manufacturing technologies. However, the (SME) supply chain industry, absorbed in daily matters, does not yet show the level of innovation activity needed for long term competitiveness. A programme for awareness, activation and stimulation of innovation in advanced materials and technologies is needed.
PROJECT GOALS
CROSS BORDER COOPERATION
Lightweight Automotive innovation requires cooperation and in the multinational EMR region this means cross border cooperation. The five EMR sub regions have all assets for successful automotive innovations with advanced materials: research centres dealing with lightweight in Aachen, Liege, Geleen, Lommel, raw material suppliers in both polymers and composites (e.g. DSM, Sabic) and metals (e.g. Arcelor), polymers & composites and metal processing (multi-materials) and joining technologies suppliers in all regions, the Chemelot material innovation campus in the centre of the EMR, strengthen the OEM production facility and improving lightweight competences in Born, a well-organized automotive sector with active sector organizations in all sub regions.
To make the region become an international star in the field of automotive materials only needs bringing together these assets in cross border cooperation. That is the goal of this project.
Create a dedicated lightweight automotive community in the EMR zone that actively pursues CO2 reduction through material and process innovation.
Create an EMR innovation agenda for light vehicle design that is supported by Knowledge centres and Industry.
Initiate first cross border demo projects with the regional industry and deliver concrete prototypes for new business before 2020.
Communicate the results to enhance the EMR as international top region for automotive innovation.
ACTIVITIES
Mobilise the advanced material automotive supply chain to meet the challenges of the future
Make clear that successful innovation needs cooperation and show the cross border EMR potential
Choose the most promising areas for weight saving in vehicles, match them with the EMR regional profile and select the components for the demo projects.
Indicate knowledge gaps and create a two-way knowledge transfer program between KI's and industry
Form innovation consortia of SME + KI's for each selected component to develop the 'ready to market' light weight prototypes and processes.
The demo projects will deliver concrete prototypes of selected vehicle components and proof of the production processes by simulation. The demonstration samples will be ready to present for hands-on demonstration to OEM customers and the SME companies will be ready to go for production. The region will have benchmark projects to profile the EMR as Top Automotive region with an innovative economy.
INTERESTED?
If you are interested in this project, please contact our consortium: info@lightvehicle2025.eu. Additional information can be found on our website: www.lightvehicle2025.eu
BACKGROUND INFORMATION
Light Vehicle 2025" is an EU-funded cross-border project (Interreg) in the Euregio Meuse-Rhine (Wallonia and Flanders in Belgium, Limburg in the Netherlands and North-Rhine Westphalia in Germany). Implemented in 2018 by 6 partners (Flanders Make (Leader), Automotive NL, AMAC GmbH, Technifutur, University of Liège and Campus Automobile Spa – Francorchamps), it will run for three years until 2021.